High Meadows Golf & Country Club
What a private club is meant to be...
It starts with our incomparable golf course with an unmatched private club lifestyle, but goes much further. Here you will find a friendly, knowledgeable staff offering you the best service in the area. Come discover what it is like to be part of the High Meadows family!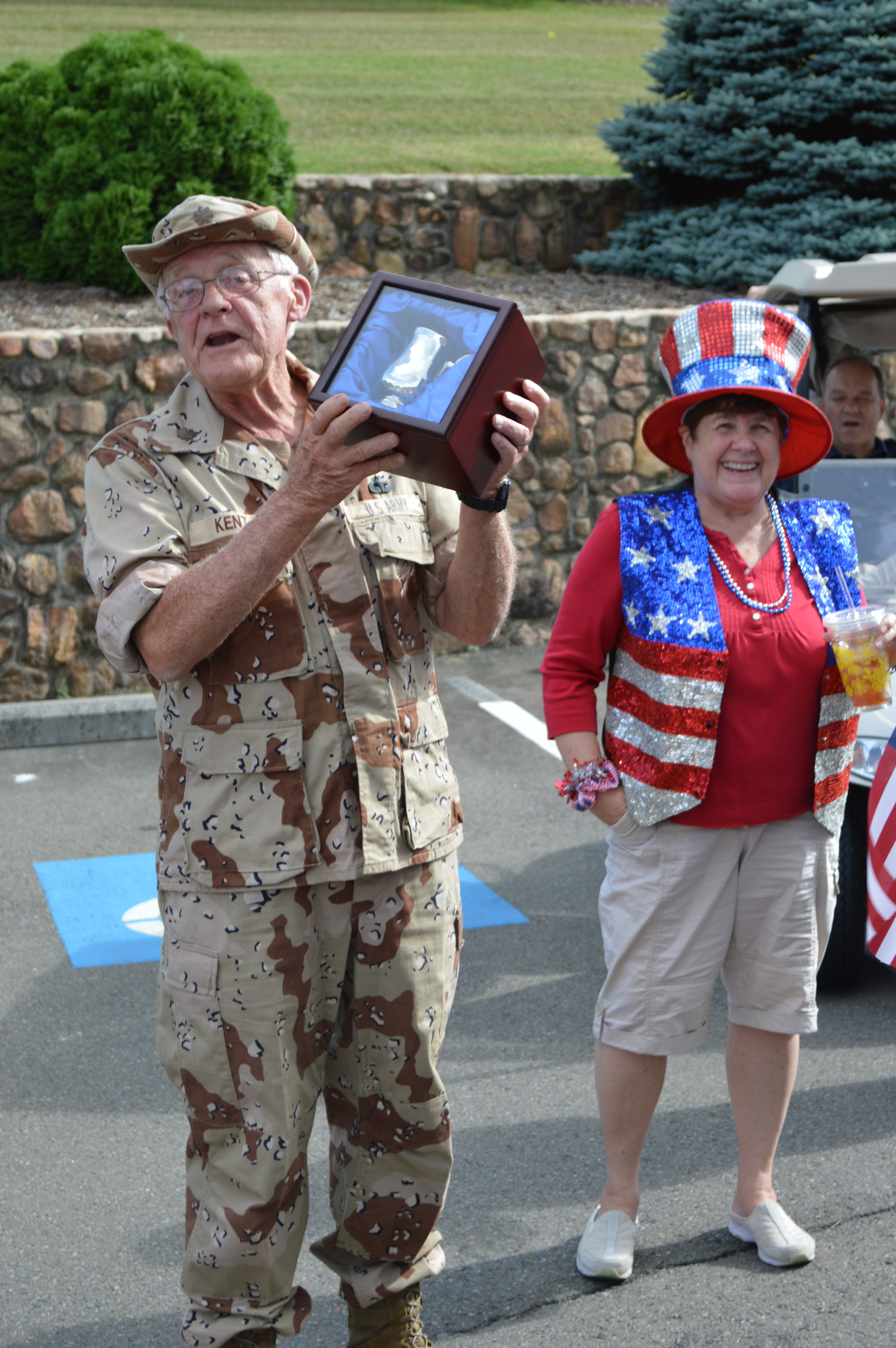 Gene & Sandy Kent, 2015 winners of the Golf Cart Parade Spirit Cup! During the 4th of July celebration and golf cart parade, Mr. Kent was recognized for his dedication and service to our country.
Read below what others have experienced
What's the buzz about High Meadows.....
All,
Just a brief note of thanks to the "Excellent" service provided during the recent Member-Guest Tournament. I had the great pleasure of being the Guest of Mr. Jim M.....It was a first class event.
The course was in excellent condition. the event was fair and square. the food and drink were wonderful. Staff support to the members and their guests made you feel welcome at all times.
Good Luck to All,
Steve L.
Clifton, SC
2015
High Meadows Country Club,

We can't begin to thank you enough for your generous gift in support of M's illness. It was such a special, unforgettable day for him. We are fortunate to live in a community where outpouring love and support are so evident. Continue to keep us in your prayers as M begins his treatments this week.

Love M and K.
Mark and Todd,
I just wanted to write a short note to express my thanks to you both, your staff and High Meadows CC for allowing us to play the Carolinas SS golf tournament at your facility.
Everything about our short stay was just wonderful. The golf course was interesting and in great shape. All the employees - from the bag guys, assistant pros and wait staff -could not have been more helpful or courteous. I felt I was treated like a member of the club.
Thanks again for a great experience and I hope we are invited back to play again soon.
Mike Sprouts
Board of Directors High Meadows Country Club
Ladies and Gentlemen
Once again I find myself writing to you to tell you something you already know – You have one heck of a club and golf course there at High Meadows. Our Pinewild Gang of 32 had a wonderful day there on Sept 24th. Thanks, first of all, to the Board for giving us another opportunity to embarrass ourselves on your beautiful golf course. The condition was wonderful and the overall impression we all had was that someone was paying a lot of attention to making sure it stayed that way.
In addition to the course, many of us had the opportunity to visit with your staff and the unanimous opinion was that you have gathered a group of people together that care about what they are doing and want members and guests to have fun and feel at home. Your new General Manager, Todd and his staff in the golf shop, your Course Superintendent and your grill staff treated us all like members in good standing. We all felt very much at home. I even had a chance to talk to a few of your members and felt welcomed by all of them.
All in all, our group could not say enough good things about High Meadows over adult beverages after our day there. Thanks, again, for all of your hospitality.
Speaking for all of the Pinewild Gang of 32
We look forward to next year,
Pinewild Gang of 32!!!!